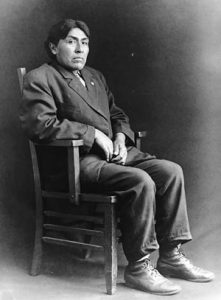 I am really thrilled that two scenes from my opera, Ishi, will be performed by the San Francisco Composers Chamber Orchestra on Nov. 4, 2017, 8 pm at St. Mark's Lutheran Church, 1111 O'Farrell St., San Francisco.  John Kendall Bailey will be conducting.  Some wonderful singers are performing, Robert Vann as Ishi, and Jacqueline Goldgorin, as his Mother.  Scene 6 will feature Nikolas Nackley as Waterman and Carley Neill as his wife, Grace.  Waterman's daughter, Helen, will be performed by Victoria Ko from the SF Girls Chorus. Here are the program notes:
Ishi, the last survivor of the Yahi tribe, lived alone for three years in the wilderness near Mt. Lassen following the massacre of his people. In 1911, he was discovered by a sheriff, trembling with starvation, and soon taken to the Oroville prison. The news of Ishi's discovery reached anthropologists T.T Waterman and Alfred Kroeber who were curating the museum of anthropology in San Francisco.
In this excerpt from Scene 4 of the opera, Ishi is fearful as he travels by train to San Francisco. Train sounds segue into a mythical encounter with his mother. Ishi arrives in San Francisco with an expression of wonder, wearing a suit and barefoot.
In Scene 6, Ishi is invited to Waterman's home to share dinner with his wife and daughter. This scene serves as a close up look at the intimate friendship that has developed outside museum walls.