Tall Trees (2016) for flute, clarinet and bassoon.  This composition was inspired by the book, The Wild Trees, by Richard Preston.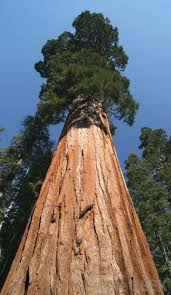 The book tells the story of the young scientists who first climbed the 360 foot giants and discovered a whole new world in the canopy of the trees.  Here is a virtual performance from 2021 where the musicians recorded their parts separately.

Nocturne (2016) for viola and piano
Introduction and Dance (2015) for flute, oboe, violin, viola and cello. Listen to June 27, 2015 performance by the Divisa Ensemble.

Collage (2012) for soprano, clarinet, violin and cello, words by Carla Brooke. Listen to movement three, "Garden," duration 4:08. Performed by Maria Mikheyenko, soprano, with members of the San Francisco Composers Chamber Orchestra.  I float with silver wings glistening each time a flower opens…
Luminosity (2011) for piano, violin and cello. Listen to June 3, 2017 performance of movements 1 & 2  by the Ives Collective in Palo Alto, California.
Fancy Free (2010) for clarinet and string quintet, duration 11:20.  Listen to June 11, 2010 performance by the San Francisco Composers Chamber Orchestra. Movement 1, "Shadows" 
Three Half Moon Bay Songs (Two Seals, Harbor Moon, Ocean Storm) (2007-2009) for soprano, flute, violin and cello.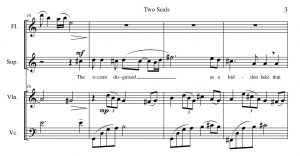 Adagio and Dance for Woodwinds (2009) for woodwind quintet
Anthem for Brass (2008) for brass quintet
Ives Variations (2005) for string quartet.  Listen to 2005 performance by the Ives Quartet.
Adagio and Dance (2005) for Guitar and Flute
Intermezzo (2005) for Alto Sax, Electric Guitar, Electric Piano and Bass
Four Retablos For Soprano, Flute, Piano and Cello (2003) My most performed composition, performed in San Francisco, Palo Alto, Bakersfield, California, Seattle, Texas, and New York.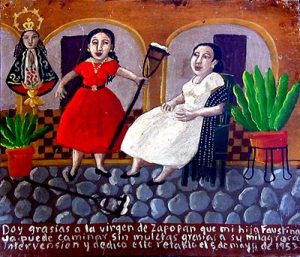 The retablos of Four Retablos are based on anonymous Mexican folk paintings with texts that offer thanks to God.   
Listen to mp3 of Retablo 1:

Beeline for String Quartet (2002)
Quartet for Double Basses (1976, revised 2002) received "Highly Honored" award from British and International Bass Forum
Escapade for Brass Quintet (2001)
Dear Composer (1999) For 3 narrators and tape: alternate version for 3 narrators, tape and live instruments (piano and bass).[read more="Read More" less="Read Less"] Many composers, like writers and visual artist, have received numerous "not interested" responses before emerging as respected artists. This composition, Dear Composer, utilizes spoken fragments from rejection letters set against bluesy music. The actual words from the letters are multi-layered in the narrator parts to create humor and irony. The instrumental accompaniment is provided by pre-recorded electronic instruments and sounds and two "live" instruments, piano and string bass.
Instrumentation: For 3 narrators and recording: alternate version for 3 narrators, recording and live instruments (piano and bass) Duration: 3:35 [/read]
Crystal Nocturne (1999) For viola and piano.

La Vida Es Como Un Sueño (1999) For flute, piano, violin and cello. Alternate version for alto sax, percussion, harp, violin and cello.  [read more="Read More" less="Read Less"]La Vida Es Como Un Sueño, (life is but a dream), was written by John Beeman for the1999 Ernest Bloch Festival in Newport, Oregon. The composition is in two sections. The first, El Sueño, fragment of imagination, begins with cadenza-like passages in the cello, violin and flute accompanied by piano. The style in lyrical, neo-romantic. Following the flute cadenza, the second section unfolds with a slow Misterioso which lays out a twelve tone row in puntalistic style. Immediately, an energetic Furioso passage begins. The serial material is developed in contrapuntal passages in shifting meters using all the instruments. The Furioso is briefly interrupted by slow music then followed again by the fast tempo. Now we hear a melody in the flute which is straightforward and more metrical. It is also reminiscent of a familiar children's song, but disguised. The Misterioso again interrupts then jumps into the child's song–now as a canon. The piece ends in humorous fashion as the tune finally begins to reveal itself.
Premiered: July 21, 1999 at the Ernest Bloch Festival Composers' Symposium, Henry Mollicone, conductor, Newport (Oregon) Performing Arts Center.[/read]Listen to mp3: 
Channels (1999) For woodwind quartet; flute, clarinet, horn and bassoon.
Channels (1998) Electronic music composition. [read more=" Read More" less="Read Less"]Channels was written as a collaboration with artist Malinda Beeman (John Beeman's sister) for an art installation work called "Folly Wall" shown in the Aspen (Colorado) Art Museum from October 15 to November 29, 1998. In "Folly Wall," the artist creates a work which deals with relative isolation contrasted with overflow of media information. In Channels, the composer uses electronic sounds opposed with synthesized real instruments to focus on the disparity. In Malinda Beeman's work, we experience the world's disasters from the safe vantage point of a solarium room without having actual contact. The musical composition creates the safe place with a passacaglia, a repeated motif first heard as a low steel drum sound. Soon, a mysterious synthesized melody appears reminiscent of the constant media background in the artist's work. This melody gives way to a second section where electronic sounds are juxtaposed with flowing bell-like timbres. The two sections alternate throughout the work in rondo form, yet the musical material is transformed by the end of the piece. The title of the composition, Channels, suggests multiple meanings: channels of information, water channels, or perhaps, channels of movement.[/read]
Fantasia for Sax (1998) For alto sax, percussion, piano, violin and cello. [read more="Read More" less="Read Less"]Fantasia for Sax and Ensemble was originally written as the first movement of a concerto for electric guitar and orchestra. This version utilizes the same elements of blues, rock and jazz music. Elson's Music Dictionary describes "fantasia" as "music in which the composer yields to imagination and gives free scope to ideas." This composition attempts to blend the free style nature of the fantasia with more traditional concerto form. Rather than the usual "struggle" with the accompaniment, Fantasia focuses on dialogue with the ensemble. The alto sax is the prominent solo instrument, but the ensemble also trades off melodic material in more of a partnership.[/read]
Five Gifts of Life (Strings Version, 1997) For actor and string quartet.[read more="Read More" less="Read Less"]The structure of John Beeman's The Five Gifts of Life follows the Mark Twain story, The Five Boons of Life, where a fairy grants each of Life's gifts: Pleasure, Love, and Riches. The Twain story, written at a very cynical time, uses Fame and Death as the last two gifts; in the song cycle, Knowledge and Wisdom are chosen. Also, here, an actor tells the story, the "gifts" become songs which are followed by Postludes using poems of William Blake. The musical style and unusual instrumentation help to portray the ethereal mood of the fable.

Instrumentation:
• Voice (Soprano, Mezzo-Soprano, Tenor or Baritone)
• Actor
• String Quartet
Duration: ca. 24 minutes[/read]
Blues in Bb…(1996) Trio for clarinet, piano and bass.[read more="Read More" less="Read Less"]Written in the fall of 1996, Blues in B Flat … attempts to take the standard 12-bar blues form and expand it into new territory. As in the traditional blues form, each 12 measure stanza is a variation on the original. Blues in B Flat … ventures far beyond modal melodies and harmonies as each variation is an exploration of selected 20th century compositional styles. The piece becomes successively more dissonant as it travels from tame chromaticism to twelve tone and finally minimalist styles. Throughout the composition the original blues progression is still heard. The intended result is whimsical, sometimes challenging, and a unique blend of styles.
Duration: ca. 4 minutes.[/read] Listen to mp3:

Foam (Musical Suite) For flute/clarinet/alto sax, trumpet, violin and cello.
Elegy for Solo Cello (1996) Listen to performance by Kris Yenney, cello at a NACUSAsf concert at Lucie Stern Community Ballroom on June 4, 2005.
Desert Sketches (1995) Trio for clarinet, violin and cello. 
[read more="Read More" less="Read Less"]Desert Sketches is a three movement trio which was completed by John Beeman in October 1995. The work was inspired by the majestic national parks of southern Utah. The piece depicts the astounding features of these high desert canyonlands through music. Rather than a literal impression of nature, the work attempts to reach the listener on an emotional and perhaps subconscious level.
In the first movement, "The High Desert Plain," the barrenness and scarcity of life of the desert is created through open harmonies and thin textures. As the movement progresses, the music becomes more complex and texture and harmony become richer. The second movement is entitled "Hoo-Doos," multi-colored towers of rock which resemble melted candle wax. The final movement, "Desert Thunderstorm" begins with mysterious harmonic clusters like the towering clouds of a building storm. A pizzicato thump signals the beginning of a brief, but intense thunderstorm.
Premiered: August 8, 1996 by the Violeto Trio at the Mountain View (Calif.) Performing Arts Center. Appears on CD "Classic Sketches," Violeto Trio (1996).
20th Century Music calls it "three picturesque movements in the vivid tradition of Ferde Grofe."
Duration: ca. 11 minutes.[/read]
Listen to a performance by the Violeto Trio of Movement 1:
Six Etudes for String Quartet (1980) [read more="Read More" less="Read Less"]Six Etudes for String Quartet was inspired by the piano etudes of Frederic Chopin. In Chopin's works each etude concentrates on a specific technique, and yet the effect is far from pedantic. Each etude stands alone in its musical integrity. In the Six Etudes for String Quartet, John Beeman hopes for a similar result. 20th Century Music called them "fine pieces which left the listener hungry for more." The short movements focus on problems inherent to string quartet: ensemble, intonation, blend and balance. Six Etudes goes beyond traditional techniques in its use of special effects: harmonics, glissandi, col legno, bow on tailpiece, and other effects are all utilized. Varied compositional styles are used and the movements may be performed separately or as a set
Duration: ca. 11 minutes[/read] Listen to Mp3's of Movement 4 and Movement 5:
The Five Gifts of Life (1979, revised 1997) Same as above version, but different instrumentation:  For voice, actor, alto sax, percussion, electric piano and cello.

Quintet (1977) For flute, oboe, clarinet, piano and contrabass.
Septet on American Themes (1975) For flute, trumpet, percussion, violin, viola, cello and contrabass.