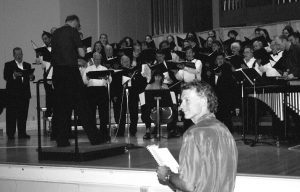 Sometimes It's Quiet in the Woods
(2015) SATB chorus with piano, text by John Beeman. Imagine walking peacefully in a spectacular wilderness area. After a moment you stop and listen intently to the sounds of the forest.    "I was walking to beautiful Emerald Lake in the Caribou Wilderness near Mt. Lassen when the words just came to me."
How Did The Rose?
(2013) SATB chorus a cappella, text by Hafiz, the 14th century Persian poet, translated by Daniel Ladinsky. Duration: 2:45. Listen to recording: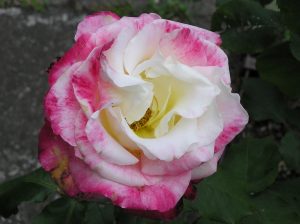 How did the rose ever open its heart
and give this world all its beauty?
It felt the encouragement of light against its being,
otherwise we all remain too frightened.
One Seed
 (2013) For children, SA chorus with piano, text by Carla Brooke
Butterfly

(2012) SATB chorus with piano, text by Carla Brooke

Recorded by "The First Readings Project," conducted by J. David Moore
"O butterfly, how did you know what to do with your wings
when they first appeared…"
Fiat Lux
(2012) SATB a cappella chorus, was inspired by the world democracy movements including the Arab Spring and Occupy movements. It uses the Latin creation text from Genesis which is later juxtaposed against English words about the struggles to end repression. The Westminster Quarters bell song is also heard.
An Irish Blessing

(2010) SATB a cappella chorus, traditional Irish text. Performed by Convivium, Eric Tuan, director, on May 25, 2013 in Los Altos, California.

Break Forth, O Beauteous Heavenly Light

(2009) SATB a cappella chorus with percussion, text by Rist, translation by John Beeman

Nature's Beauty

(2007) SATB a cappella chorus, text from a letter of Beethoven.
Ilu Finu Malei Shirah

(2004) SATB a cappella chorus

Nitpickers

(2004) SATB a cappella chorus.

Sempervirens

(2004) for chorus and orchestra. [read more="Read More" less="Read Less"] Text by John Beeman
Sempervirens, ancient tree, great tree,
you don't have to be heard.
You do not have to wonder if your song
will be heard in a hundred years, remembered,
You only have to let your long and sturdy branches
sway with the wind without resisting.
Tell me of your past and I will tell of mine.
Sempervirens, your life flows on, always living.
The dove and the white owl of the night
find shelter in your shadows,
over your mountains and your valleys,
soar the redtail and the eagle.
I wonder if human voices
will be singing high again?
No matter what I say, no matter what I do,
your beauty plants itself inside my memory;
soothes me in a pure, sweet voice.
Now and forever, my song remains whole
in your always living heart.*Sempervirens literally means "always green." Sequoia sempervirens is the
scientific name for the California redwood tree.

[/read]Listen to June 9, 2006, performance by Scola Cantorum of San Francisco.

https://johnbeemancomposer.com/wp-content/uploads/2017/07/Sempervirens-1.mp3

Wild Geese

(2003) SATB a cappella chorus.

A Child Wonders

(2003) for SA children's chorus and piano.
Angel of Peace

(2002) SATB chorus with vibraphone and cello. [read more="Read More" less="Read Less"]  Words by Carla Brooke.
Synchronized prayers, received and replied
in rhythmic overlays of transparent hues on silk as
my arm followed with angelic colors of heaven and earth
effortlessly emerging from a familiar place.Trusting the whistling seraphim blowing
through empty space.
Taking wing from one unbreakable, luminous thread.
With each brush stroke an angel connects all time, all life
Arrival announced with a star shining the way
To the same source that made her.

[/read] Listen to 2002 performance from the Oregon Bach Festival by the Oregon Repertory Singers, Gil Seeley, conductor.

https://johnbeemancomposer.com/wp-content/uploads/2017/07/Angel-of-Peace-1.mp3
Choral Music may be ordered from jwpepper.com – John Beeman