REVIEWS
     Michael McDonagh of Sequenza 21 wrote on June 27, 2010:  "John Beeman's 2 movement  Fancy Free, with the composer on double bass, was carefully written and expressive; its most striking sound image being a sequence of unison rising fourths near the very end."
    Butterfly for SATB chorus and piano was a prizewinner in the Freudig Singers Composition Competition and also received the "Silver Platter Award" from the American Choral Directors Composition Showcase.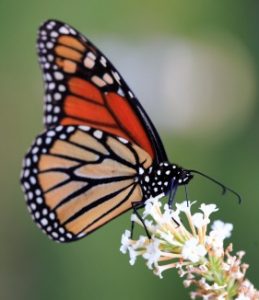 Jack Senzig wrote:  "John Beeman's Butterfly has a lovely text to encourage our young adult singers to let their inner selves shine.  The piano plays a descriptive role.  It does not double the vocal parts but does help with entrances.  The combination of voices, piano and text makes this a work well worth performing."
       Janet Steen Campbell in 20th Century Music (October 1998) about the opera, Law Offices:  "The music of Law Offices is contemporary and accessible.  Beeman uses the rhythm of the words to punctuate and define the music.  Much of the vocal line is quasi-recitative, alternated with more through -composed sections with an interesting but often unpredictable tonality…the music hung together naturally and cohesively, with an underlying melancholy and sense of foreboding."
      In 20th Century Music (September, 1997) Mark Alburger wrote about Six Etudes for String Quartet: "John Beeman brightened the landscape considerably in Meter Changes, the jaunty fourth movement…  Also engaging was the blue-note Bartok of Unusual Modes, in plus de pizzicati and tremeli — the second of two fine pieces which left the listener hungry for more."
AWARDS
      ASCAP Plus Awards 1998-2016
     "Creative Connections" award from Meet the Composer, 2006 and 2007
     Four Retablos for Soprano, Flute, Cello and Piano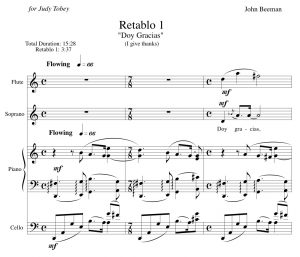 was a vocal division winner of the Boston Metro Opera's Contemporary Americana Festival. It was also was a score call winner and performed on the Bakersfield Symphony Orchestra's New Directions Concert.
     Meet the Composer Mid-America Alliance grant, 2004
     Subito grant from American Composers Forum, 2004
     Quartet for Double Basses (1976, revised 2002) received "Highly Honored" award from British and International Bass Forum
      Oregon Bach Festival Composers Symposium, (Robert Kyr, director), featured composer,
June 21-July 6, 2002
      Margaret Fairbank Jory Grant from the American Music Center, 2001
      Individual Artist Grant from Peninsula Community Foundation for production of opera The Answering Machine 1999-2000
     Grant from Philanthropic Ventures Foundation for production of Law Offices opera, 1998; and Channels multi-media presentation, 1999